Amber Johnson -titles
NRCHA Cowhorse News Jan/Feb 2023
2022 NRCHA Southwest Region Limited Open Bridle
WICKED WEYS / AMBER JOHNSON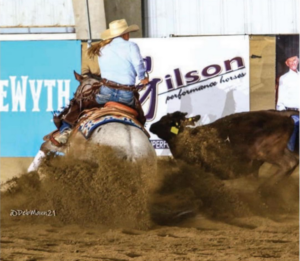 Though Amber Johnson has been showing Wicked Weys (Metallic Cat x Wicked Wanda Rey x Dual Rey) since he was four, she's known him much longer. Her dad, Jason, of Lindsay, California, purchased the 2015 gelding when he was 2. Johnson and "Swayze" won earnings of $2,760 for the Southwestern Limited Open Bridle regional title.
"His stops for sure are his most special physical talent. He is so strong and so physical about it. I can run him as hard as I want, and he will drag his butt. It is a great feeling being able to trust him that he is always there for me," Johnson said. "Our best moment was at the Western Derby in Scottsdale, Arizona. We won the Limited Open Bridle, and it was my first major win. I was happy to do it on him. Swayze has always been solid and consistent in the reining, but we always had a little trouble down the fence. He gets a little weird about some things, so I have to go slow with him, too."
2022 NRCHA Western Derby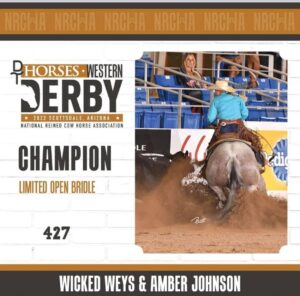 Ambers fb post June 2022:
Wicked Weys (aka Swayze) and I had a great show at the NRCHA Western Derby. We have won the Limited Open Bridle, I can not put into words on how proud I am of him and myself to overcome all the ups and downs we have had but we have never given up. I want to say thank you to Lance, Tammy Johnston and Cara Hencratt for helping me and all of the support you have given. I could not have done it with out you guys. Thank you.