2021 NRCHA Western Derby – QHN
Magical Western Derby Win For Cara Hencratt
Posted on June 9, 2021 by Edited Press Release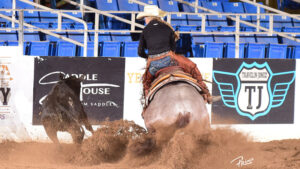 Cara Hencratt thought she knew which of her two horses would do best at the DT Horses Western Derby, but Magical Couper Ride delivered a pleasant surprise.
Hencratt and the daughter of Little Red Coupe bested the field in the Level 1 Limited Open, defeating 25 other horses – including Move That Rock, who Hencratt rode to high rein and herd work scores.
Bred and owned by Las Vegas-based Rocking BS Ranch, Magical Couper Ride is a 2017 mare that Hencratt's mentor and boss, Lance Johnston, showed at the futurities. With Hencratt in the saddle, the duo scored a composite 648.5 (213 herd/218 rein/217.5 cow) in Scottsdale, Arizona.
The DT Horses Western Derby is only Hencratt's second show with the mare. Johnston joked with her that they would beat Move That Rock, though Hencratt felt more confident on the gelding by That CD Rocks since she'd ridden him longer than Magical Couper Ride.
"She did really well for me and we get along really well. She was really honest for me all week," said Hencratt. "I just wanted to make three clean runs. He kept joking this past month that we would do well, but they were both really, really good for me. This mare had a really good cow for her down the fence."
Hencratt started working for Johnston the day after the 2020 Western Derby. She grew up in California rodeoing, and got the cow horse bug through family friend and fellow NRCHA competitor Polly Bremmel. With two talented mounts to show at NRCHA premier events, she's gotten hooked for life.
She'll pilot Magical Couper Ride in the Intermediate Open and Limited Open Finals on Sunday, June 13, and will also show Move That Rock in the Limited Open Finals that day. She's looking forward to showing Magical Couper Ride with more confidence.
"She's really fun in the herd because she has a lot of expression and excels in the herd," she said of the mare out of Very Smart Choice (by Very Smart Remedy). "I was nervous to open her up in the prelims, but I hope to show off what she can do in the finals. I made the Intermediate and Limited Open finals on her."