2021 NRCHA Futurity – QHN
Cara Hencratt & Shiney Little Rock Clinch NRCHA Futurity Level 1 Limited Open Win
QHN -Posted on October 18, 2021 by Lillian Kent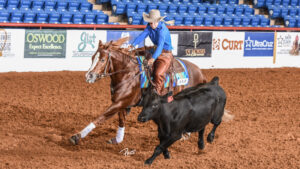 Shiney Little Rock and Cara Hencratt were leading the Level 1 Open field heading into the fence work at the National Reined Cow Horse Association (NRCHA) Metallic Cat Snaffle Bit Futurity.
They just had one more run to bring it home.
In the John Justin Arena on Sunday October 17th, Shiney Little Rock and Hencratt scored a 218.5 down the fence, earning them a 650 composite (216 herd/215.5 rein) and $16,000.
"I think his best [event] is the fence. He's got a cool style down the fence, he circles really well and he may not be the fastest but he's really accurate," Hencratt said. "We had a little bobble in the reining, in the last stop he over-stopped and almost went over backwards because the ground was so slick and he stops so hard. That cost us a few points."
Sired by That CD Rocks and out of Uno Smart Starlight (by Smart Little Pepinic), Shiney Little Rock is owned and bred by Paula Bremel. The twelfth foal out of Uno Smart Starlight, Shiney Little Rock earned the barn name "Doce," the Spanish word for twelve.
"I've known [Doce] since he was born. I started him for Paula, and we're partners on him. I've had him all this time and he's been really fun and good to train. It was fun to bring him here and show him off," Hencratt said.
Hencratt has been riding in the open for two years, and works for 2019 NRCHA Snaffle Bit Futurity Open Champion Lance Johnston.
"Lance is awesome to work for. Both he and [his wife] Tammy are great. They treat me like family," Hencratt said. "I have a few horses I get to ride and show for clients, all thanks to Lance. He's given me so many opportunities and it's just been amazing."
Hencratt and Doce missed the Open finals by one point, but will be continuing to compete in the Limited and Intermediate Open finals at the Snaffle Bit Futurity.
Reserve Champions in the Level 1 Limited Open were Shiners Voodoo Doll (Shiners Voodoo Dr x CR CD Slide x CD Lights) and Cody Hanson. The duo posted a 216 in the herd, 215 in the reining and a 215.5 down the fence for a 644 composite, earning $12,000. The mare is bred and owned by Ellie Willoughby.