Cara Hencratt – titles
2022 NRCHA Derby
fb post – June 20 2022
I highly recommend being in a runoff with Chris Dawson It was such a fun experience. Congrats Chris on your run and thank you so much to Brent Steward and Susie for the opportunity to show such a talented mare.
video of go >>>
---
2021 NRCHA Western Derby
NRCHA fb post – June 2021
Congratulations to Cara Hencratt for piloting Magical Couper Ride (Little Red Coupe x Very Smart Choice x Very Smart Remedy), bred and owned by the Rocking BS Ranch, to the Level One Limited Open Derby Champion title. The pair's composite 648.5 took the win and earned $3,582.

WATCH THE RUN: https://bit.ly/3zfpuiy
---
2021 NRCHA Snaffle Bit Futurity
Cara Hencratt
2021 NRCHA Open Hackamore
fb post Oct 2021
Cara Hencratt and Move That Rock "Riley" were 7th today in the Open Hackamore Finals! They were AMAZING!! Thank you Lance Johnston for making this unicorn a reality for me!!
Thank you Cara Hencratt for being such an AMAZING trainer/rider! Thank you Polly Bremel for breeding such a SPECIAL horse!
Thank you to the hard working JPH crew!! I feel so blessed to be able to have such a special unicorn as my partner next year to show!! I
---
2020 Reno Snaffle Bit Futurity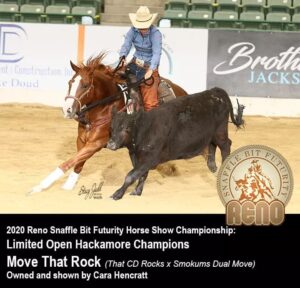 Reno Snaffle Bit Futurity fb post Sept 2020:
The 2020 Reno Snaffle Bit Futurity Limited Open Hackamore championship was won by Move That Rock, owned and shown by Cara Hencratt. The pair won a check for $1,400, a Skyline-Vaquero buckle sponsored by The Wild Bunch (Ron Zumbro, Bobby Ingersoll, Gary Schneck & Lee Smith), a headstall sponsored by Classic Equine with commemorative conchos from MincerSilversmiths, and Platinum Performance supplement sponsored by Platinum Performance.
Cara's Fb post: October 2020
Two years ago, Riley and I entered (and won) my very first NRCHA futurity in Montana. Today I am driving home from my first snaffle bit futurity with 7 championships. Riley qualified me for my first open finals in the hackamore. His half brother Doce and I missed the open futurity finals by 1 point. My other futurity horse owned by Rocking BS also made the limited finals and placed in the level 1. There are too many people to thank individually for getting me to where I am today, but you know who you are. I'm forever grateful to live this life and I cannot wait for what is to come.