2019 NRCHA Snaffle Bit Futurity – QHN
Turning Point: Cheers to Lance Johnston
by Russ Hecox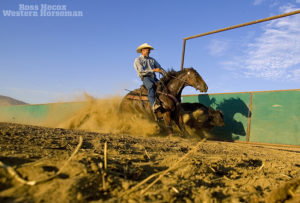 Watching Lance Johnston win the 2019 National Reined Cow Horse Association Snaffle Bit Futurity was thrilling to me on so many levels. I met Lance almost 15 years ago while working for Performance Horse magazine. I took the photo above while he and I were working on a training article.
I also photographed his most recent performance at the 2019 Snaffle Bit Futurity in Fort Worth, Texas, riding Here Comes The Boon. Not only did the Lindsay, California, trainer capture the title with a riveting 226 score in the cow work, but he also finally claimed a championship he had been dreaming about since he was 8 years old. He is now 48.
Additionally, he told Quarter Horse News that dealing with a degenerative back condition, spinal scoliosis, has limited his performance for the past several years. So when he circled up his cow and the horn blew, you could feel the emotion as he gripped his hat and lifted it into the air in front of thousands of cheering spectators. Congratulations, Lance.