2019 NRCHA SBF – IHP
Champions of the 2019 NRCHA Open Futurity
by International Horse Press
Here Comes The Boon and Lance Johnston earned $155,000 as champions of the NRCHA Open Futurity ®, presented by Metallic Cat, and CINCH Intermediate Open .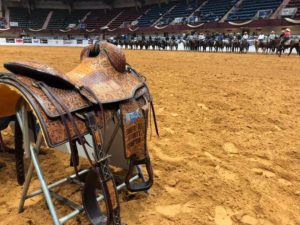 In customary reined cow horse fashion, Open, Intermediate Open and Limited Open championships at the $1.2 million dollar National Reined Cow Horse Association Snaffle Bit Futurity , presented by Metallic Cat, , would be decided by the outcome of the fence work. The 50th running of the NRCHA Snaffle Bit Futurity opened with red carpet introductions honoring the 25 Open Finalist owners and riders, after which time the Open Futurity rein work, Intermediate and Limited Open cow work, and thrilling Open cow work finals rocked the famed Will Rogers Coliseum in Fort Worth, Texas.
After posting an outstanding 220 in the rein work, Lance Johnston and Here Comes The Boon (Once In A Blu Boon x Sta Outta My Shorts x Shorty Lena) trailed the leaders, Kelby Phillips and Nineteen Ten (Hickory Holly Time x Lil Miss Shiney Chex x Shining Spark), by 7.5 points going into the cow work. Never a hair out of position on a challenging cow, Johnston and the 2016 roan stallion owned by Rocking BS Ranch and bred by Rob A. Brown, lowered the boom to overtake the lead with a score of 226.5. After working 11th in the draw to tie for the lead, Johnston waited as one by one the greatest 3-year-old three-event equines ridden by some of the most accomplished horsemen and –women challenged his cumulative score of 664.5 (220 rein/ 218 herd/ 226.5 cow)—but came up short despite valiant efforts. While Johnston and Phillips were tied for the overall lead after Phillips rode Nineteen Ten to a solid 219 on the cow, with the tiebreaker being the cow work score, Nineteen Ten would finish as reserve champion with a 664.5 (224 herd/ 221.5 rein/ 219 cow). The $125,000 Open Futurity paycheck was officially awarded to Here Comes The Boon ridden by Lance Johnston for Rocking BS Ranch.
When interviewed by in-arena color commentator and NRCHA professional Brady Weaver, a jubilant Johnston says he knew he needed to lay down a precise run to challenge the lead.
"I thought it was going to take a Charolais cow to beat Kelby," said Johnston, knowing they'd been tough but yielded high marks if mastered. "But then Kelby told me we were only working black cows and I thought 'oh, they're not going to be enough.' I thought, 'well I just need to be really accurate and they'll pay me if I'm accurate.' But then that black cow came out and he threw his head up and snorted at me a little bit and I knew I had my cow."
Indeed he did. Having already cashed a fourth place paycheck for $8,512 in the NRCHA Western Bloodstock Sale Incentive Open composite, Johnston said how pleased he was that Brent and Susie Stewart of Rocking BS Ranch purchased Here Comes The Boon at his urging.
"They're awesome," said Johnston of his owners. "Anybody who knows them knows what great people they are."
Johnston expressed appreciation for his wife Tammy and her unyielding support and hard work, as well as for his cow horse friends and family. "Without my wife Tammy I couldn't make it here," said Johnston. "She does everything for me. Three years ago at the [NRCHA] Stakes I couldn't even dress myself, she had to do everything for me."
Johnston has straightforward plans for the future—to continue showing great horses in the NRCHA. "I ain't quitting," he said. "I love this, I love the reined cow horse family."