2018 Wild Spayed Filly Futurity – PTH
His Reined Cow Horse Kasey
NRCHA Professional Lance Johnston on Mustangs and His Reined Cow Horse Kasey
by Protect The Harvest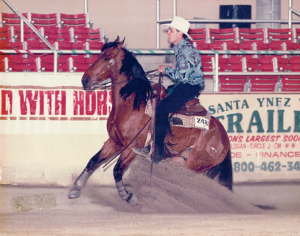 Not many people in the horse industry as a whole can say that their very first show horse was a mustang. Even less can say that a mustang was the very first reined cow horse they ever trained. Kasey, a horse from the Black Mountain herd in California, was just that for NRCHA professional, Lance Johnston.
Lance worked as a horse shoer and trained outside horses to pay his way through school at Cal Poly University in San Luis Obispo. He also worked for the Forest Service packing in supplies to camps in the Los Padres National Forest. This experience with the Forest Service was his first introduction to the horses of the Black Mountain herd.
Kasey, the NRCHA Professional's First Show Horse
Lance was about 20 years old when he adopted Kasey, eventually turning him into a show horse. At first, the pair showed in reining events as Lance did not have cattle available where he lived. After he met his wife, Tammy, he was able to move cattle down from his family's ranch to their place. Once Lance was able to start working Kasey on cattle, they shifted from showing only in reining events to competing in reined cow horse classes.
The two showed all over the state of California, taking advantage of the reined cow horse classes offered at local fairs like Paso Robles and King City. Lance showed Kasey for three years in the buckaroo and reined cow horse classes and then began team roping with him. With his big stop, Kasey proved to be a great heel horse as well as a show horse.
Training Kasey
We asked Lance what it was like to start and train Kasey, here's what he had to say:
"In the beginning Kasey was very wild and broncy. The first dozen rides on him; well he was tough. But, once I got through all that he was the smartest and most talented horse. Since he was my first show horse, I did so much wrong. I would train him and then go out and learn more and then I would have to go back to him and change what we did, almost 360 degrees. He just accepted it. He allowed me to teach myself. It was all trial and error."
"He was a big stopper. He was very natural to run and stop. He was solid on a cow, especially since I was so new with it. He was spot-on solid. That's why I was so successful with him in the show pen."
"I was offered $10,000 for him. Back then that was a lot of money for any horse, especially one that wasn't registered, and I turned it down. I wasn't going to sell him. Kasey stayed with me until he died. "
Kelly and Other Black Mountain Horses
In addition to Kasey, Lance adopted a Black Mountain mare he named Kelly. Kelly was trained to be used on the ranch, for packing and as a family trail horse. Lance said, "She was a really good horse. The funny thing is, my Mom's name is Kelly. When I named her Kelly, it didn't strike me that was my mom's name too. I wasn't even thinking about that. It was my mom that pointed that out to me. I just liked the name and she seemed like a "Kelly" to me."
While Lance worked for the Forest Service he was asked to start and train a number of other Black Mountain horses. He estimates that he started and trained over 20 of them that went on to be used by the Forest Service and other Ranchers and people in the area who were looking for good trail riding horses. Lance recalls, "A lot of them were really good horses. One of them ended up being my son's first horse. Another one I adopted, trained, and gave to my dad. That horse was eventually passed on to another family. He's 24 years old now and doing very well."
"A lot of those horses lasted a long time. There was only one out of all of the Black Mountain horses I had that didn't make it. He was very wild and tough. I don't really know that it was his fault. He had been with someone else before he came to me and I think he was mishandled."
Lance's Thoughts about the Wild Spayed Filly Futurity
"When I first started working with Mustangs, they had a bad rap. I was amazed at what good horses they were. They make great horses. They are sure footed because they are raised in tough country. The ones I had made really good ranch horses. They were quite a bit better than many of the registered horses because they just knew how to handle tough country.
From my experience, I think it's great that Protect The Harvest is doing this. This program is a neat deal and I think it is going to help bring more interest in these horses. It shows what they can do. Hopefully once people see them compete, more people will want to get them, because there are a lot of nice horses out there. It can help those horses find a good place and be of good use and not just sitting in a feed lot."
More about Lance
Lance Johnston is a professional horseman with over $800,000 in National Reined Cow Horse Association earnings. Among his many accomplishments, Lance was the NRCHA Snaffle Bit Futurity Reserve Champion and to date has made the finals in the Open 14 times. He is a 4 time Salinas Rodeo Champion and 4 time NRCHA World's Greatest Horseman finalist. Lance has also been featured in NRCHA Hall of Fame member Sandy Collier's DVD series, "Tips from the Masters". Lance and his wife, Tammy operate Lance Johnston Performance Horses located in Lindsay, California, where he specializes in reined cow horse, cutting and roping.