Lance Johnston
current NRCHA Lifetime Earnings >>>
NRCHA Million Dollar Rider article >>>
Lance Johnston – cowhorse CHAMPION!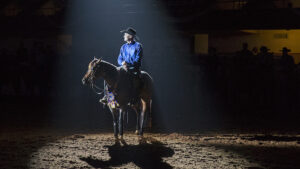 Every Buckle Has a Story.
The dust settles, the roar of the crowd quiets and the realization that you have just earned the most coveted National Title in the cow horse world.
"This truly has been a dream come true."
Lance Johnston
---
cowhorse training videos by Lance Johnston:
from reined cow horse training online (RCHTO)
Why You Should Work One Cow At A Time After Herd Work
Great Exercise For Your Herd Work Turn-Around
2019 has been a GREAT year!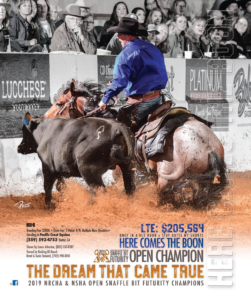 The dust is starting to settle and we are wanting to say thank you to so many…. the amount of support, mentions, congratulations, the excitement shared by so many has been overwhelming!
Lance is to be inducted to the Million Dollar Rider club during the NRCHA Celebration of Champions.
---
Lance Johnston – NRCHA Millon Dollar Rider!
2019 THE YEAR of Lances Snaffle Bit Championships!
2019 NRCHA Snaffle Bit Futurity Open and Intermediate Open Champion
– Here Comes The Boon (Once in a Blu Boon x Stay Outta My Shorts) owner Rocking BS Ranch
2019 NSHA Futurity Open and Intermediate Open Champion
– Here Comes The Boon (Once in a Blu Boon x Stay Outta My Shorts) owner Rocking BS Ranch
2019 Reno Intermediate Open Champion & Open Reserve Champion
– Diamonds R Metallic (Metallic Cat x Shes Ful of Diamonds x Hes a Peptospoonful)
2019 IRCHA Snaffle Bit Futurity Intermediate Open Champion
– Mr Cee Street (Cee Mr Hickory x Miss Bourbon Street x Pep Bar Deck) owned by Trystin Johnston
---
2019 Futurity Champion = NRCHA – NSHA – Reno – IRCHA
Lance Johnston has the reputation as one of the best fence runners in the NRCHA
NRCHA #5 Open Rider with earnings of $434,044.15!
2019 NRCHA Highest MONEY EARNER in Open; earning $322,232.63!
Lance Johnston is a professional horseman with over $1,000,000 in earnings. Among his many accomplishments, Lance has made the finals in the Open 14 times. He is a 4 time Salinas Rodeo Champion and 4 time NRCHA World's Greatest Horseman finalist. Lance has also been featured in NRCHA Hall of Fame member Sandy Collier's DVD series, "Tips from the Masters".
Lance is a 2A Judge and has judged NRCHA, VCHA, high school rodeo cuttings and has judged the Magnificent 7. Lance has been a CCHA board member.
Not many people in the horse industry as a whole can say that their very first show horse was a mustang. Even less can say that a mustang was the very first reined cow horse they ever trained. Kasey, a horse from the Black Mountain herd in California, was just that for NRCHA professional, Lance Johnston.
Lance a graduate of Cal Poly, began showing with the encouragement of his wife, Tammy, whom he married while a junior in college. She had seen what he had done training mules and a mustang he had made handy. Together, they operate Lance Johnston Performance Horses in Lindsay, a town in the central valley of California.
"I was always interested in training horses. Most kids were reading comic books. I was reading Ed Connell and the Hackamore Reinsman. That's all I cared about, riding and the Spanish vaquero way. That's what I wanted to do. I love this deal so much. As long as I can handle it, I'm going to keep doing it. It's in my blood, NRCHA cow horses."
Lance worked as a horse shoer and trained outside horses to pay his way through school at Cal Poly University in San Luis Obispo. He also worked for the Forest Service packing in supplies to camps in the Los Padres National Forest. This experience with the Forest Service was his first introduction to the horses of the Black Mountain herd.
While Lance worked for the Forest Service he was asked to start and train a number of other Black Mountain horses. He estimates that he started and trained over 20 of them that went on to be used by the Forest Service and other Ranchers and people in the area who were looking for good trail riding horses.
"I love reined cow horses," he said. "If I couldn't ride anymore, I'd be a huge fan cheering for my buddies and watching it. Now, if I don't make the finals somewhere, we pull it up on the web on the way home. I don't want to quit even though I cannot always compete at the level I used to. But I don't want to quit. I want to keep going.