2019 NRCHA Snaffle Bit Futurity – NRCHA
Big Cheese On Top
NRCHA Cowhorse News
Oct/ Nov 2019 by Kate Bradley Byars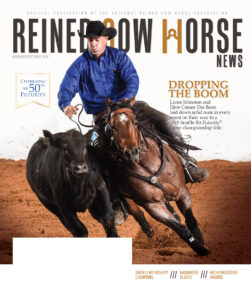 Like all great stories, the 2019 National Reined Cow Horse Association Snaffle Bit Futurity®, presented by Metallic Cat, had a protagonist who had to overcome the odds to win the prize.
Lance Johnston and Here Comes The Boon, called "Cheese," wrapped up a stellar futurity season by winning the biggest one of all in Fort Worth, taking the Open and Intermediate Open champion titles.
For Lance Johnston of Lindsay, California, showing a horse in the finals of a major reined cow horse event wasn't always inevitable. While the trainer has been competing at the Open level for a couple of decades, there was a time he decided that Open-level competition wasn't going to be possible for him due to the pain he endured because of a back condition. "I have degenerative spinal scoliosis and severe pinching of my nerves in my lower back," said the 47-year-old trainer. "I made every major event finals, then went to making none. I almost quit, but I love this sport so much. I couldn't quit. I decided to compete hard in the interme- diate—maybe not win it—but compete and make a living and keep my non pro riders going. That was the way I thought I could stay in it and stay in the NRCHA family that I love."
Once he made the decision to ride for the love of it, Johnston's winning ways returned. The 2019 reined cow horse futurity season has taken on the familiar plot of a motivational, feel-good movie.
Johnston won the National Stock Horse Association Open and Intermediate Open pre-futurity event in August. The momentum of that win carried Johnston and Here Comes The Boon (Once In A Blu Boon x Stay Outta My Shorts x Shorty Lena), a roan 3-year-old stallion, into Fort Worth, Texas, on a high note and carried that positivity all the way to the champi- onship title.
Open Snaffle Bit Futurity Champion Lance Johnston and Here Comes The Boon, called "Cheese," haven't been together long, but it sure has been a whirlwind ride.
During the 2 Year Old Session at the 2018 NRCHA Snaffle Bit Futurity Sale®, Johnston watched then-owner and con- signer Myles Brown ride his sale horse, Here Comes The Boon. That special roan caught Johnston's eye. He instantly knew that the colt would fit his program.
He convinced Brent Steward, of the Rocking BS Ranch he shares with his wife, Susan, to buy the stallion. The rest, as it's said, is history. After pushing through the preliminary rounds with consistent scores that quali- fied for the finals night on October 19 in the Will Rogers Coliseum, it looked like Johnston's longtime dream to celebrate a big cow work at the Snaffle Bit Futurity was going to come true. He and Cheese landed atop the 25-horse final field with a 664.5.