Here Comes The Boon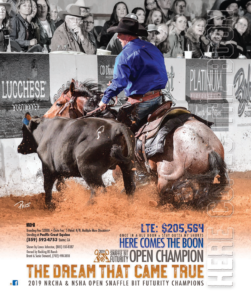 Broodmare Sire Effect: Here Comes The Boon
QHN Posted on February 25, 2020 by Larry Thornton
When Here Comes The Boon and Lance Johnson won the 50th National Reined Cow Horse Association (NRCHA) Snaffle Bit Futurity Open Championship, the sport's biggest fans went crazy. The duo also won Futurity Intermediate Open in a fairy-tale finish.
The 2016 bay roan stallion (Once In A Blu Boon x Stay Outta My Shorts x Shorty Lena) was bred by Randy and Sharon Butler, and he is owned by Brent Steward's Rocking BS Ranch. He closed out 2019 with $205,564 garnered in two shows — the first of which being the National Stock Horse Association Futurity, where they also won the Futurity Open and Intermediate Open.
Here Comes The Boon's sire, Once In A Blu Boon (Peptoboonsmal x Autumn Boon x Dual Pep), is the winner of $316,564 and an Equi-Stat Elite $1 Million Sire. Equi-Stat Elite $27 Million Sire Peptoboonsmal (Peppy San Badger x Royal Blue Boon x Boon Bar) was the 1995 National Cutting Horse Association Futurity Open Champion, and Royal Blue Boon is the all-time leading dam of cutting money-winners, with earnings of more than $2.6 million recorded in Equi-Stat. Her top performer is Red White And Boon, the No. 1 cutting horse of all time with more than $922,000 won.
Autumn Boon is also out of Royal Blue Boon. Her foals have amassed $1.95 million, with only Equi-Stat Elite $5 Million Sire Im Countin Checks ahead of Once In A Blu Boon on her progeny record. This gives Once In A Blu Boon a breeding pattern of 2 X 2 to Royal Blue Boon, making Boon Bar the broodmare sire of both Peptoboonsmal and Autumn Boon.
Stay Outta My Shorts (Shorty Lena x Oaklynn x Doc's Oak) carries a lot of the same blood as Once In A Blu Boon, though less intense. Shorty Lena is a son of Doc O'Lena, by Doc Bar. Oaklynn (out of Go Go Princess x Royal Poco Dell) is a daughter of the Doc's Oak, by Doc Bar. She is the winner of $47,380 and the dam of horses that have won $442,192, including 2000 NRCHA World's Greatest Horseman Champion Paid By Chic.
Boon Bar, with $6,896,537 as a broodmare sire; Dual Pep, with $35,842,608; Shorty Lena, with $16,573,144; and Doc's Oak, with $16,754,764, are all stallions whose daughters have made a significant contribution to the foals they produced. They are all also in Here Come The Boon's pedigree.
This means Here Comes The Boon's bloodlines give us some insight into how stallions can influence the female side of the pedigree. It also shows us the genetic basis of the "magic cross" and the link between the broodmare sire and his daughters in that cross.