2018 IRCHA Futurity – FB post
JPH brings home the titles!
Lance and his girls did great in the finals. Kitty drew a fast tough cow, of course she did lol, marked a 144 placing them 3rd in IRCHA Open Futurity and Champion in the Intermediate Open Futurity. Miss Betty came from behind and marked a big 146.5 down the fence pulling her up to 10th in Open and 5th in Intermediate.
Congrats to Rocking BS, Brent and Suzie and Gretchen for the success in Idaho and all year long.
Open Novice Horse, Intermediate Open Champion & 3rd Open : Cats MeradaLeena (Cats Merada x Isabellena) owned by Rocking BS Ranch
Non Pro Derby 3rd : Cee My Foolish Tangy (Cee Mr Hickory x Nu Tang) ridden by Tammy Johnston, owned by Trystin Johnston.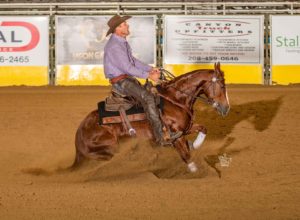 Well, Smalls and Tammy had a great show. The pair marked a 143 down the fence and ended up tied for 3rd in the Non Pro Derby. He was a very good boy and it was his 2nd show ever. We love our Cee Mr Hickory's.